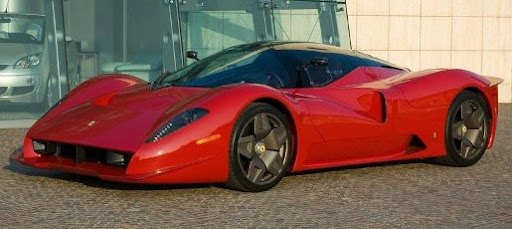 Could it be the world's ultimate supercar? Combining the skills of legendary design house, Pininfarina, with the pace of an Enzo, this impressive coupe was set to turn the performance car class on its head when it was unveiled in the summer of 2006.
It's the Ferrari 612 P4/5, a one-off model created especially for film director and stock exchange magnate, James Glickenhaus. The P4/5 started its life as an Enzo, but was transformed because Glickenhaus wanted a car that resembled the styling of Ferrari's 1960's race cars, the P Series. Designing, engineering, and building this special car was left in the hands of none other then Pininfarina. Their mission was to produce a unique vehicle inspired by sport racing cars with extreme vocations. This was not to be just a show-car, but a vehicle to be enjoyed on the road. And taking a close look at the final product, we have to admit they managed to do more than that.
Exterior and Interior
Even if the P4/5 started its life as an Enzo there is nothing about this car that reminds about it. Pininfarina has developed more than 200 components through constant interaction between styling and design: from the bixenon lighting clusters specifically designed with an innovative system of yellow and white leds to the alloy wheels – 20-inch aluminum – milled from the block, up to and including the aluminum and special steel in-sight hinges.
The result is a supercar with sleek lines and an impressive aerodynamic. Pininfarina's effort was to reach the highest levels of performance combined with perfect functionality of all the appendices integrated in the body of the vehicle.
The Engine
The Ferrari P4/5 is powered by a 6.0 liter V12 engine that delivers 660 HP at 7800 rpm and 657 NM of torque at 5500. The engine is mated to a 6-speed semi-automatic transmission of the Enzo with black shifting paddles behind the wheel. It has two directional indicator buttons, one mounted on each side of the steering wheel.
It can sprint from 0 to 60 mph in just in 3.0 seconds and can hit a top speed of 233 mph.
The Competition
The Ferrari P4/5 is a one-off model with no competitors on the market. However, considering it started as a Ferrari Enzo, models like the Aston Martin One-77 and the Lamborghini Reventon would fit the bill as worthy challengers.
The One-77 is powered by a naturally aspirated 7.3-liter V12, derived from Aston's 6.0-liter powerplant. That massive motor will crank out 750 HP with torque checking in at about 533 pound-feet. With this amount of output, the One-77 can sprint from 0 to 60 mph in 3.5 seconds and can hit a top speed of 220 mph.
Limited to only 20 units, the Reventon is powered by 6.5 liter engine. For this car and none other, Lamborghini guarantees a 12 cylinder engine that delivers 650 HP at 8,000 rpm and 660 Nm of torque. It can sprint from 0 to 60 mph in 3.4 seconds, with a maximum speed over 211 mph.
Prices
Being since this is a one-off model, no-one will actually get the chance to purchase one. That is, of course, unless your name is James Glickenhaus in which case you paid around $3,000,000 for this unique model.