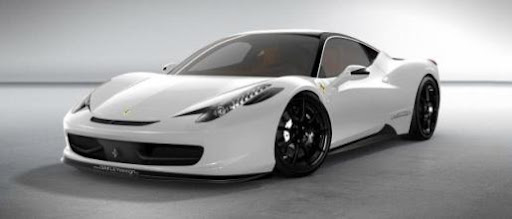 Lets face it, the Ferrari 458 Italia is a car that needs no customization; it is perfect just as it is. Of course, that still isn't going to stop tuners from tinkering around in their automotive laboratory to try to juice up this baby. The European tuner Oakley Design is offering a tuning package limited to just only 5 units that improves not only the car's appearance, but also its performance.
The aerodynamic package includes a carbon-fiber front spoiler lip, carbon-fiber inserts on the radiator air exit ducts, wider side sills, a lighter carbon-fiber rear diffuser, a new rear spoiler and carbon-fiber roof panel, mirror covers, and an engine cover insert. The exterior package is finished off by 20-inch wheels with 245/35ZR20 and 305/35ZR20 tires.
Aerodynamics get improved with the use of a front spoiler that "adds 45kg of down force" to the front end at speeds of 150 mph and a new rear spoiler with a Gurney flap that adds 25kg of downforce.
The engine's output has been increased by 10%, obtaining a total of 627bhp and a peak torque of 567Nm. The sprint from 0 to 60 mph is made in 3.0 seconds, while top speed is 205 mph.
This tuned up 458 Italia is much more impressive than the made-to-order 458 Italia designed by Cam Shaft. The Ferrari 458 Italia Nighthawk still produced the same 570hp as the standard model with only a matte black wrap to spice it up.
The Ferrari 458 Italia Oakley Design has been taken testing in the MIRA Wind Tunnel. Check out the video to see how many carbon fiber parts were developed and tested using a range of track data and wind tunnel testing.
As we mentioned before, the first production model for the super exclusive Ferrari 458 Italia by Oakley Design will be making its debut at the 2010 SEMA Show. To spice up the grand entrance of this special edition to the tuning world Oakley Design has added exclusive HRE custom forged P40S Monoblok wheels which reduce the overall weight of the vehicle in comparison to the factory OEM wheels. The package includes a remapped ECU, a larger carbon-fiber air intake box, larger ram air feeds, and larger diameter white silicon pipes.